At the Quartly Membership Meeting held November 21, the Chapter dedicated a Memorial Plaque in the name of long time member Frank Papaianni, who passed away earlier this year.  The plaque will be displayed in the Carson City office to honor those who have dedicated years of working to improve the rights, benefits and well being of Public Employees in Nevada. The inaugural class of inductees included. Jeanne Adams, Danny Coyle, Bob Gagnier and Roger Maillard.
Pictured are: Nick Frost, Chapter member; Joan Papaianni, Frank's wife; and Jeanne Adams daughters Jeanine Lake and Karen Williams accepting the award on behalf of their mother.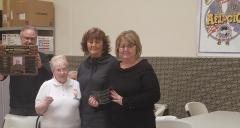 On Thursday February 6, 2020, at the Retirees Quarterly meeting,  Robert "Bob" Gagnier was also presented with the Frank Papaianni award ( by Joan Papaianni) and an Honorary Membership into Retirees Chapter 4041, along with his wife, Sandee Gagnier (presented by Fred Suwe).